Responsive online and up-to-date outage information to customers
Utilities and other organizations understand that more and more customers use social media to get their news and information, as well as communicate through it. AGSI has developed Go360™ Public Outage Map so utilities can get their information online through an interactive map. The outage map can be viewed through a desktop or any web-enabled mobile device.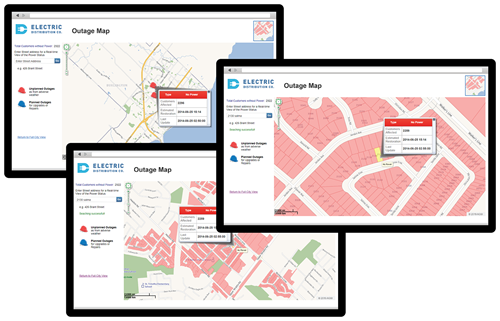 View service outage area, number of customers, and time of service restoration information
Go360 Public Outage Map integrates with customer care and the outage management system (OMS) and provides critical information such as the service outage area, number of customers, cause of service outage, planned maintenance outages, and estimated time of service restoration.
The customer outage map is integrated through Go360™ LiveOps and Go360™ Customer Care and is automatically updated by specific operator functions in the control room, all in real-time. Notifications can also be pushed out to customers who want this information via email, text, social media, or other means.