Powerful tools for responsive customer care and service
Go360™ Contact Centre is a web-based application helping to save time, speed up support, and reduce errors. It provides real-time communication between 311 customer care representatives, the general public, and corporate departments.
Representatives taking calls have everything they need at their fingertips. Call takers can quickly identify customers, view account information, along with complete account history on screen. It provides representatives with a real-time view of on-going incidents, disruptions, or service outages within the area, useful information that can be communicated back to the customer.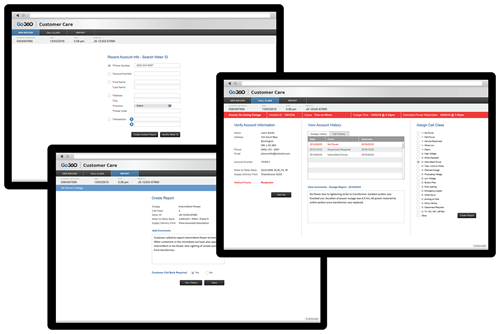 Create reports, view ongoing disruptions, and view account details
When fully integrated, Go360 provides the enterprise with a streamlined call taking process combined with real-time interdepartmental communications. Reports are created in the system recognizing the location of the event, at the same time identifying other customers who are potentially affected. Departments can confirm the event, or its resolution and the information is available to the 311-customer care representative.
This information is very useful to the customer care representative as they search a customer who is part of a known service outage or event – they are provided with a message across their screen. Event information can also be published on public mapping websites giving customers visiting the site a better picture of the location, the extent of the issue, an estimated time of resolution, and other updates.
Management reports can be generated or viewed through dashboards, charts, and additional user defined reports for corporate analysis, regulatory reporting, or ad hoc requests.
Unparalleled Protection & Security
AGSI's Go360™ Security Engine is a proprietary system that continuously runs checks and balances in the background to protect data, control user access, and ensure user authentication. The Security Engine is a fundamental component of all Go360 applications, entrusted by many data sensitive organizations.