Providing organizations the ability to easily document and manage assets from birth, through operations, inspections, health assessments, movement, maintenance, upgrades, to eventual disposal
Accurate asset documentation and up-to-date information lies at the very core of any effective asset management program in any industry. Go360™ Inventory is an easy-to-use, web-based application providing asset managers or anyone responsible for keeping track of asset inventories the means to capture all events associated with an asset and keep this information accessible.
Assets can be easily searched, and all details, photos, event histories, and inspection results are readily available. Easily add assets to your inventory including purchase data, nameplate data, the current location it can be found, use status, and any manufacturer certificates.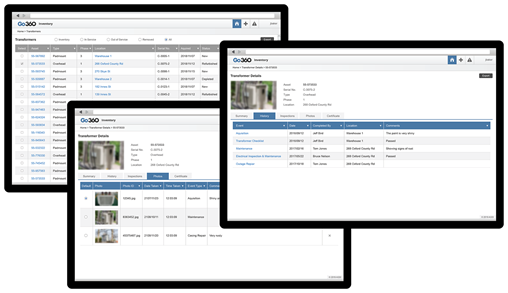 Asset listings and details
With a click of a button an inspection or checklist can be performed using Go360™ Audit & Compliance. Field crews using Go360 Audit & Compliance on a web-enabled device can perform inspections and all inspection results are captured and recorded in real-time becoming part of an inspection history. Audits and inspections completed over time provide valuable data for trend analysis reporting.
In-field repair and maintenance work can be captured using Go360™ CrewOps and work details become part of the asset history. Assets taken out of service, replaced, or relocated are recorded as well as any accompanying photos. Photos documenting repair work, damage, or progressive deterioration provides valuable information for asset life cycle management.
Crews can record preventive and reactive maintenance actions for assets individually or as part of a group of assets. The application supports maintenance protocols and standard operating procedures. Incoming alerts allows asset managers to take timely corrective measures.
Go360 Inventory is a business application that provides asset owners tracking and management capabilities in the most cost effective, risk-mitigated manner, allowing your teams to spend their valuable time wisely.
Unparalleled Protection & Security
AGSI's Go360™ Security Engine is a proprietary system that continuously runs checks and balances in the background to protect data, control user access, and ensure user authentication. The Security Engine is a fundamental component of all Go360 applications, entrusted by many data sensitive organizations.