Go360™ CrewOps delivers work to your field-crews in real-time, keeping them responsive, productive, and mobile
Field crews can receive and view assigned work, sort it by priority, and search nearby unassigned jobs. Crews can see all work order details, plus reference data such as original trouble call information. If required, crews can also be routed to the work location via a map on their device. CrewOps is simple, easy-to-use, and works on any web-enabled tablet or mobile device.
With a click of a button, task progress and completion status is sent back to the dispatcher, network operating centre, and the rest of your organization in real-time. Incorporating Go360™ Dispatch at the corporate office completes a fieldwork management system.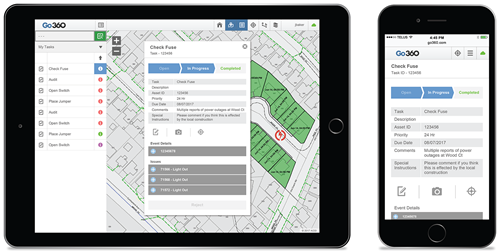 Go360 CrewOps works on any web-enabled mobile device
Work that cannot be completed due to extenuating circumstances is recorded along with follow-up comments or procedures. The uncompleted work is then rescheduled or reassigned while field crews move onto the next available job. Photos, free-form comments, and / or voice descriptions documenting a job or work site can also be captured and shared.
The CrewOps application assists any mobile workforce, in particular field crews within utilities, communications, government, and commercial enterprises who are responsible for responsive service delivery and public safety. As with all Go360 products, Go360 CrewOps seamlessly integrates with our other product line-up used by call takers, dispatchers, network operations, and audit & inspections teams today.
Unparalleled Protection & Security
AGSI's Go360™ Security Engine is a proprietary system that continuously runs checks and balances in the background to protect data, control user access, and ensure user authentication. The Security Engine is a fundamental component of all Go360 applications, entrusted by many data sensitive organizations.