Responsive public space & corridor management
Providing a rich set of tools to support responsive, responsible, and equitable use of a community's public spaces. Go360™ Permitting assists all levels of government, supporting single tier or multi-tier applications when multiple departments or agencies are required to review applications for permit approval.
Spaces can be known as "the public realm" to architects, "rights-of-way" to utility engineers, "transportation corridors" to transportation planners, and "the street" to the rest of us. These spaces were originally designed as sidewalks, roadways, parkettes, cycle ways, or infrastructure rights-of-way. They are also used for a wide variety of other purposes such as street parties, sporting events, repair / installation of buried infrastructure, movie shoots, construction-waste storage, moving over-sized loads, etc.
Applicants create an account to gain access to the online portal and submit permit applications complete with the aerial image. Once submitted, they can track their application status, be notified if additional information is required, review proposals, or receive approvals. All this can be monitored through their self-serve customer portal.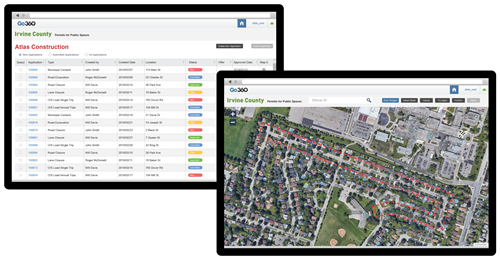 Online application portal, client views
Using Go360™ Dispatch public and government organizations automatically receive and review permit applications. Go360 automatically retrieves asset IDs, location and other pertinent asset information. Dispatchers can use the multi-tier version to allow other departments or agencies review applications for approvals.
If required, dispatchers can mobilize crews to the site to inspect assets and / or assess local conditions via Go360™ CrewOps. Inspections are performed using Go360™ Audit & Compliance and results are included in the permit application.
All internal actions are streamlined and statuses can be monitored through the Focus View providing the dispatcher with a complete picture of each permit application. When appropriate actions have been completed an approval or proposal can be sent back to the applicant.
Go360 Permitting integrates departments and public spaces so managers can spatially see overlaps or conflicts to better manage, schedule, and plan events with improved efficiencies and less disruption for residents and business in their communities.
Key features and benefits
View public space inventory
Visualize boundaries of regulated spaces
Online and front-desk portals for submitting special use applications such as:

Street parties
Movie shoots
Underground utility installation (road-cuts)
Oversized load movements
Construction site servicing

Tests for overlap in space and time with:

Other special-use permits
Capital program works
Traffic by-laws

Protecting recently finished surfaces from cuts
Inspections using mobile devices
Recording reinstatement costs
Invoice production
Go360 business software can be used with any web-enabled device with no additional software installation. Web services allow it to be easily integrated with other systems such as GIS, Accounting, and Work Management.
Unparalleled Protection & Security
AGSI's Go360™ Security Engine is a proprietary system that continuously runs checks and balances in the background to protect data, control user access, and ensure user authentication. The Security Engine is a fundamental component of all Go360 applications, entrusted by many data sensitive organizations.