Quick and easy correction and update requests placed right on the map
Go360™ CheckIt is the easy-to-use tool for GIS users to find, flag, and request corrections or updates required to keep map data accurate and up to date. As users perform their regular tasks, they simply create a marker on the map, add a comment or description, and send off the request for verification by an administrator. All with minimal disruption to their own daily tasks and workflows.
Administrators, with authorization to make changes to the map database, receive the request and easily make the necessary changes or updates. Users making requests, can view the status of their resolved or unresolved CheckIts complete with resolution comments and dates.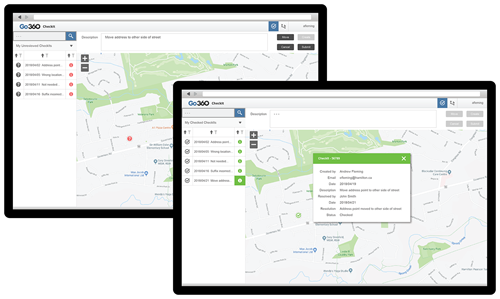 Unparalleled Protection & Security
AGSI's Go360™ Security Engine is a proprietary system that continuously runs checks and balances in the background to protect data, control user access, and ensure user authentication. The Security Engine is a fundamental component of all Go360 applications, entrusted by many data sensitive organizations.