AGSI congratulates Tess Cieplucha, daughter of AGSI's Creative Director Janusz Cieplucha, for her Gold Medal swimming performance at the XVIII Pan American Games in Lima, Peru.
The games run every four years and this past summer they were held in Peru from July 26, through to August 11, 2019. Forty-one nations and 6,680 athletes competed in 39 sports at venues in and around Lima.
Tess represented Team Canada in the 200m Breaststroke and 400m Individual Medley long course events. Tess' time of 4:39:90 in the 400m Individual Medley brought home the Gold medal for Canada. This was the only Gold medal for Canada in swimming and the first time Canada has won this event since 1999. Tess also finished seventh overall in the 200m Breaststroke.
When asked about her experience Tess said, "This was my first senior international competition, and I was excited to see what I could do for my country. It was such a fun experience and the team and staff on Team Canada were awesome. I am so proud of my teammates and appreciated everyone that supported me. I can use this momentum going into the Olympic year and I am excited to see what else I can do for my team and country."
Tess currently attends University of Tennessee in Knoxville TN majoring in Environmental Sciences. As a senior, she swims for Tennessee Volunteers Swimming & Diving as part of the South Eastern Conference (SEC) under head coach Matt Kredich. Tess also currently holds the 400 IM short course yards school record.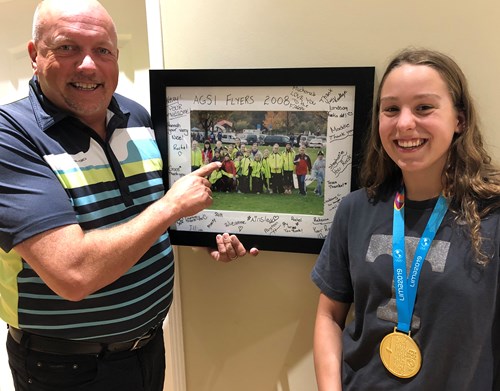 AGSI first met Tess as part of the AGSI Flyers running club back in 2007. Coach Chris Cameron said, "She was a tenacious competitor back then and we have really enjoyed watching her progress to the top ranks in Canada and now the world. Way to go Tess!!!" Tess stopped by the AGSI offices while she was briefly in Canada prior to heading back to Tennessee to show us her Gold Medal and the Competitor Mascot. She and Chris took a moment to reminisce over her 2008 AGSI Flyer Team picture in a we-knew-each-other-when moment.
Go Tess! Go Canada! Go Vols!