Go360™ Customer Outage Map recently went live at Burlington Hydro and was almost immediately put into action due to severe weather
The Go360 Customer Outage Map can be seen online as part of the Burlington Hydro website where customers can view power outages or planned maintenance work. The outage map can be viewed through desktop or mobile devices.
The Customer Outage Map is integrated through Go360™ LiveOps and Go360™ Customer Care and is automatically updated by specific operator functions in the control room… all in real-time. Notifications can also be pushed out to customers who want this information via email, text, social media, or other means.
Burlington Hydro's President and CEO, Gerry Smallegange was recently featured on Cogeco TV's Halton Insider newscast where he talks about the utility's new Go360 LiveOps Outage Management System and how it will enhance customer communications during future power outages.
Severe weather on June 25, 2014 caused a pole fire. Pictures were posted on social media by repair crews and captured through Go360™ Social Media for Utilities. AGSI understands that more and more customers use social media to get their news and information, as well as communicate through it.
The network trace in Go360 LiveOps captured the customer outage event in real time and pushed it out the public website. Sample screen captures below illustrate the customers immediately effected by the power outage and after corrective steps were taken reducing affected customers by over 2,000 accounts.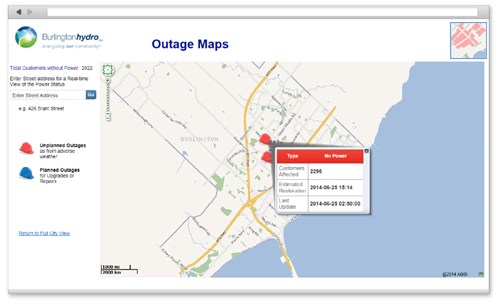 Screen Capture 1) Outage before switching to isolating the problem. Map of Burlington indicating two power outages with nearly 3,000 customers out of power in total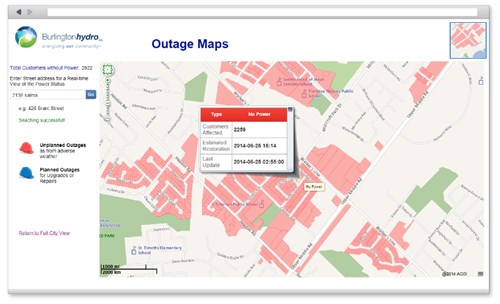 Screen Capture 2) Address search indicates customer is part of an outage affecting 2,259 customers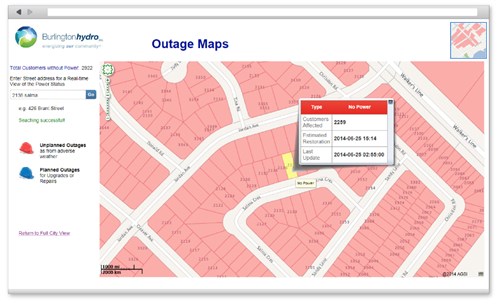 Screen Capture 3) Close up of affected area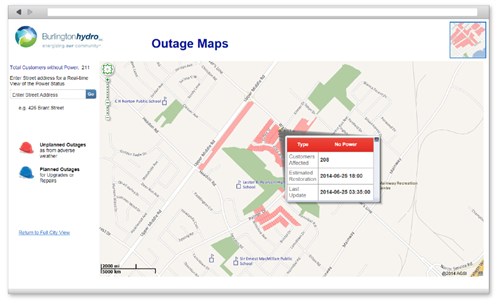 Screen Capture 4) Outage after switching reducing affected customers by over 2,000 accounts
Visit www.burlingtonhydro.com to view the Go360 Customer Outage Map… in real-time!