Angus GeoSolutions Inc. (AGSI) and Bridging Intelligence Opportunities (BIO) have been awarded the prestigious Premier's Award for Agri-Food Innovation Excellence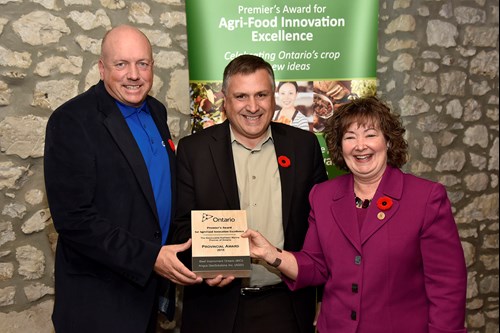 Go360™ bioTrack™ mobile application was chosen as an excellent example of the spirit of innovation that abounds in Ontario's agri-food industry.
The awards ceremony was held on Monday, November 9, 2015 at the Cambridge Mill in Cambridge Ontario and local MPP Kathryn McGarry presented the awards. President and CEO of AGSI, Christopher Cameron and General Manager of BIO, Mike McMorris were on hand to receive the award.
Go360™ bioTrack™ is the result of a development partnership between AGSI and BIO and is an indispensable mobile business solution that livestock farmers can use anywhere, anytime, changing the way that farmers will look at data collection. Simply put, it takes data collection to a whole new level of simple!
Go360™ bioTrack™ helps producers manage livestock, capture data including pictures, track records, analyze information, create reports, and link information along the food supply chain all through any web-enabled mobile device, such as tablets and smartphones.
Go360™ bioTrack™ overcomes one of the industry's biggest challenges when working in rural areas – unavailable internet or cell service. This truly mobile application allows farmers to continue their work in the field or at the barn where the animals are, and at market or auction where business is done. Go360™ bioTrack's™ disconnect mode allows farmers and producers to manage information anywhere, anytime. Users can upload their data when an internet connection becomes available.
AGSI's Go360 technology has been utilized in many industry sectors such as electric utilities, oil & gas, telecommunications, government, insurance, and law enforcement, and is now available to the agri-food industry.
Check out Go360™ bioTrack™ by visiting www.bridgingintelligence.com or calling 1 (855) 246-2333.
Learn more about other Go360 Business Solutions.