Go360 is revolutionizing the way organizations do business once again. AGSI announces its newest product, Go360™ Audit & Compliance
Go360 Audit & Compliance transforms the obligation of complying with corporate policy, regulatory requirements, industry and quality standards into meaningful, valuable business processes where collecting audit information can now be used for such things as business analysis, performance trends, reporting, and litigation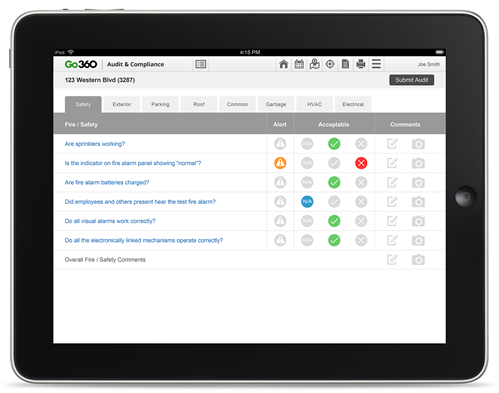 Go360 Audit & Compliance can audit virtually any asset, key corporate interest, critical infrastructure, service and delivery in any industry such as property management, government, hotels and restaurants, electric, telecommunications, oil & gas, fleet management and transportation, security, law enforcement, schools and day cares, just to name a few. Go360 Audit & Compliance is a real-time system enabling immediate information flow to your enterprise.
Go360 Audit & Compliance comprises of four modules for your business roles, streamlining use and effectiveness.

Compliance & Administration – used by the Business Management personnel to insert policy, regulations, and standards that will be audited, how they are linked to process, and defining access to whom can access the system as well as all temporal definitions.
Audit – used in the field by an Auditor to collect the required information. This is streamlined to ensure focus on the critical information and minimize in-field time.
Analysis & Reporting – provides valuable insights into the information and your business. This includes an AGSI proprietary scoring system, item analysis and comparisons, standard reports, and ad-hoc reporting. This is useful for business analysts or management personnel in providing corporate insights and any series of internal or external reporting requirements.
Executive Dashboard – provides the bottom-line view of the business and trends through a series of intuitive business graphs and charts.
These modules provide organizations with total flexibility and control in creating audit types and questions, in performing audits, analyzing and evaluating the information gathered, and visualizing data in ways that makes sense to decision makers for better, more informed decisions. Digital data, which can now be recalled and viewed, is infinitely more valuable than paper audits that may not have been completed or get filed away in offsite storage.
The Go360™ Security Engine manages users, groups and the audits that auditors have access to. Auditors only see the assets, information, and audits assigned to them. Corporate data is secure and only seen or accessed by users with the appropriate credentials.
Go360 Audit & Compliance makes the task of completing audits and collecting data effortless. The easy-to-use interface is designed to be used on any web-enabled tablet so audits can be captured anywhere, anytime. Auditors can record comments, take photos and movies, and create alerts. Answers can be simple acceptable / unacceptable answers, value inputs, numeric ranges, sliders, or dropdown options. Audits are immediately uploaded to the server after the audit is complete where managers can view audit results in real-time, run reports, and view data through dashboard tools.
Each time an audit is performed Go360 Audit & Compliance creates a unique audit ID number that is GPS, date, and time stamped while also recording the name of the auditor. Users can easily search assets via an asset or sub-asset list, or they can locate assets on a map. Once the asset is identified the appropriate audit is available to begin with a click of a button. Audits can be completed without an internet connection so audits can be performed where assets are located, in rural areas, in vaults and basements, or underground in manholes. No more paperwork, all results are captured on a tablet ready to be uploaded to the server. Once an audit is complete the user can view a report and create an action list for immediate remediation of any deficiency findings.
Additional highlights of Go360 Audit & Compliance
Auditors have access to reference material such as floor plans, layouts, contractor lists, and more
Assets and sub-assets can be grouped in hierarchal formats for easy searching
Assets can have multiple audits
Audits are launched at a click of a button
Tool Tips provide auditors with instructional information about each question
Tool Tips help for consistently in audit answers
Scores values are assigned to questions and audits
Alerts and notifications can be automatically sent to managers, maintenance crews, or supervisors
Each audit is GPS, date, and time stamped
Assets can be assigned to specific auditors based on skill set or area of responsibility
Managers know when, where, and if audits are performed
And much, much more…
Add-ons are available for integration with management systems (Go360 or pre-existing), Go360™ Messaging Centre with ticklers, plus other Go360 solutions.
For more information on the many features and benefits, or a live demonstration of Go360 Audit & Compliance please contact AGSI and your representative will happily speak to you regarding this new business evolution: AGSI (905) 876-0700 or info@agsi.ca.